Buy 3D Scanner: Which one fits my application?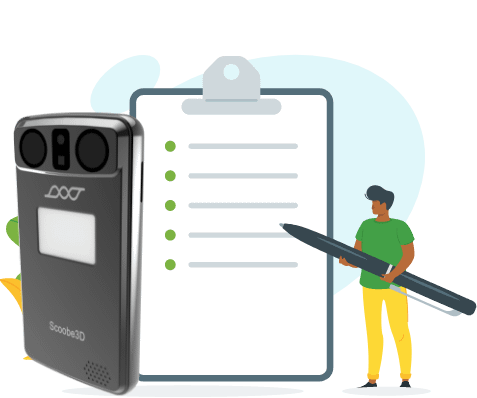 Are you looking for a 3D scanner for your company? Then you have come to the right place. By searching for a 3D scanner you will get a lot of facts. So many, that they can easily get out of your head.
At the end of this blog post you will have a strategy at hand. You will know which factors are really important for you and which you can safely ignore. So you always keep the overview and make the right decision.
Each company has different requirements and therefore individual factors have to be taken into account. After all, the 3D scanner should meet all company needs and at the same time give you and your colleagues a competitive advantage. So if you want to improve your 3D models, make sure that the investment fits your applications.
Compare the situation, for example, with a sports team that orders the wrong logo for its promotional items. There are high costs to have all T-shirts, cups etc. made again. Not to mention the reaction of the fans.
In the following you will find important information about what to consider when buying a 3D scanner. This will help you find the right 3D scanner for you and generate added value for your company.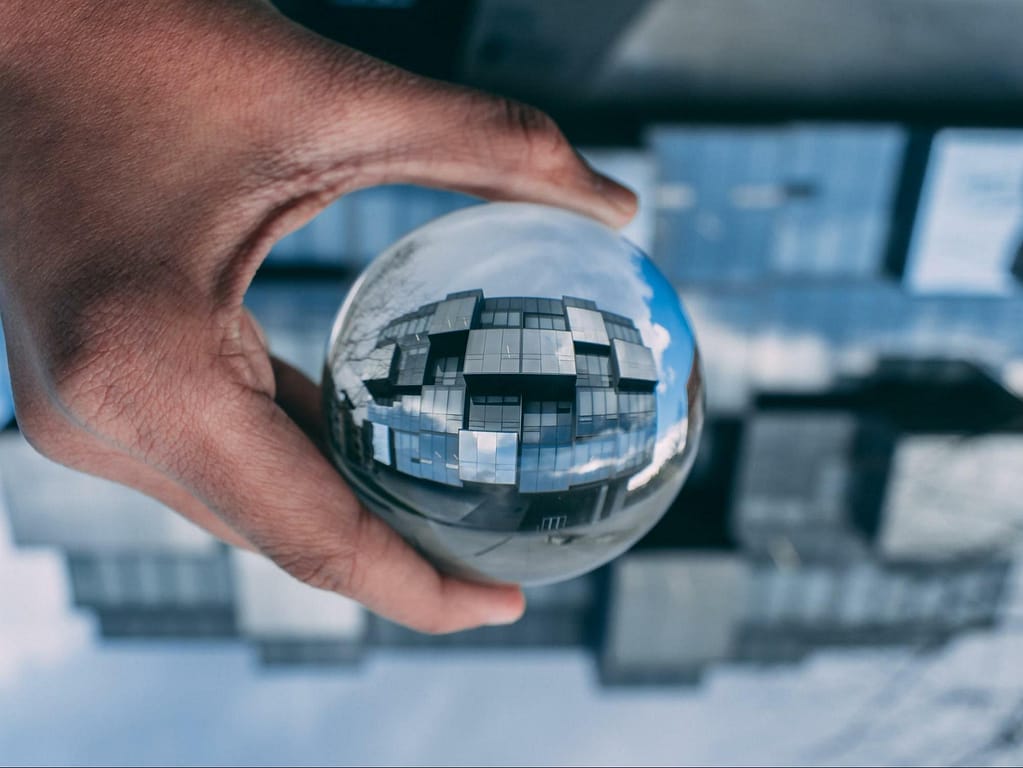 A common mistake when buying a 3D scanner is not knowing what your needs are. Is your data collected in your company with only a few, specially trained employees?
Do several members of your team use the scanner, so an intuitive operating system is important to you? Or does your team need a portable 3D scanner that can be used in different locations?
Thoroughly consider your requirements to narrow down the choice of 3D scanners.
Do not concentrate on the latest, most modern 3D scanner. This one can probably do many things relatively well, but nothing perfect. Even what you don't need, but are willing to pay for. Think about which one is best suited for your company goals.
From large objects and rooms to small, complex and highly detailed objects. The possibilities are boundless.
Do you develop models based on scans of a living object (e.g. a person)? In this case you need a high scanning speed to correct errors of movements.
There is much to consider. From the type of object you want to scan in 3D to the use of your scanned data. Do you use reverse engineering and work on highly complex CAD models? Or do you need 3D models to ensure the quality control of your production?
Are you working on small or complex 3D models? Then a precise scanner that captures data in a stable environment is useful.
All scanners have advantages and disadvantages. So it's a matter of finding the scanner with the advantages that match your focus.
If you are selective, you will find a 3D scanner that meets your criteria. You increase your chances of getting more orders and can even develop new business areas.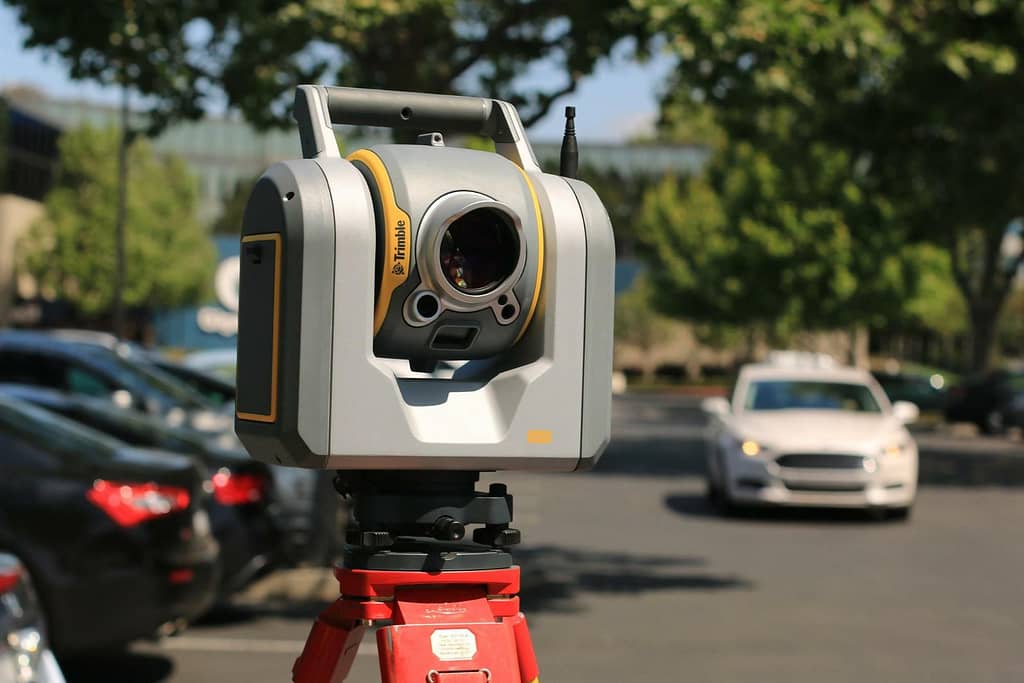 The most important scanning techniques
Once you have worked out your requirements for a 3D model, your next step is to find the right scanning technique. There are many different scan technologies, all with different strengths and weaknesses.
We have selected frequently used and promising scanning technologies for you:
Below you get an overview of the most common 3D scanning technologies, their application areas and examples of 3D scanners. Alternatively, you can also watch the YouTube video.
Below you get an overview of the most common 3D scanning technologies, their application areas and examples of 3D scanners. Alternatively, you can also watch our YouTube video.
Note: A mobile 3D scanner with laser triangulation is in the higher price segment.
To use laser triangulation for moving objects is bound to certain criteria. Your scan object must move in relation to the laser, similar to a conveyor belt at an airport. A smooth movement of the scan objects is required to completely scan the object. This way you avoid incorrect or unusable data.
The technology offers extremely high accuracy and no limitation in object size. However, the laser is dangerous for the eyes, so you should wear protective goggles.
It is also not possible to scan shiny materials. Therefore, please check your materials to be scanned before you make a decision.
So that your shiny object is also recognized by laser triangulation, there is a very easy way out. Before scanning, treat your scan object with a chalk spray (e.g. this one Dupli-Color Chalk spray). This way the object no longer shines and can be scanned.
Examples from practice:
Engine parts
Quality Control
Examples for 3D scanners:
Faro Focus S350
Leica Geosystems BLK360
Instead of sending a laser beam, this technology works with a light pattern. The pattern is deformed by the object, so-called code words. These code words are translated, which then results in a 3D model of the scanned object.
It takes a few seconds to translate the code words. So if you move your scanner too fast, you will end up with a faulty or incomplete scan.
Structured Light often follows a stationary approach that creates highly detailed and complex 3D models. It is a high-priced technology that requires a specialist to operate. It delivers a high accuracy of up to 0.05 mm. But only for objects that do not shine or reflect (here, too, chalk spray helps, see paragraph on laser triangulation).
Examples from practice:
3D documentation
Automotive
reverse engineering
3D scanner examples:
Artec Eva lite
David hp 3D structured light scanner pro s3
shining 3D scanning pro
Simple and often a cheaper solution compared to laser scans and structured light: photogrammetry. As its name suggests, this technology combines a series of photos into 3D data. Either from high-resolution and complex digital photos or from pictures of a mobile phone camera.
While accuracy is not a strong point of this method, you get a color 3D model. It is even possible to digitize large and difficult to access areas like forests.
At the same time it is tedious to take the many photos manually. One has to pay attention to a sufficient exposure and make sure that the object is well visible in the picture. This needs to be practiced.
Examples from practice:
Development of video games
Mapping of archaeological sites
Films (for example Fight Club, Matrix)
Examples of 3D scan software:
Colmap
Meshroom/AliceVision
Bentley ContextCapture
Time-of-Flight (short: ToF) offer an inexpensive, although not arbitrarily accurate method of generating 3D data. They work with the time-of-flight method to measure distances. Here's how it works: the camera field of view is illuminated by a light pulse (usually infrared lights).
Based on the time the light pulse takes to reach the object and back, the distance of the object is measured. ToF cameras are usually quite user-friendly and quickly deliver a 3D image.
Recordings can be made at a distance of between a few and 40 meters. The resolution is 1 to 10 mm in the optimum case, but is often significantly worse due to reflections.
Examples from practice:
Live image of environment for autonomous logistics vehicles
Robotics: Pick and Place applications with large objects
Measurement of volumes to determine freight costs in logistics, which are automatically palletised by robots
3D Scanner example:
Occipital Structure Sensor
Polarization is the only method to date to reliably detect specular and reflective surfaces without pretreatment.
This solution emits light that is reflected by the scan object. Depending on the surface inclination of the object, the light returns polarized differently. The 3D model is created from the polarization data.
For polarization to work at its best, it must be combined with at least one other 3D scan technology. However, when used in combination, it improves the accuracy of the 3D model by a factor of 10 to 1000, i.e. take a 3D model that would be accurate to 1 mm without polarization. With polarization it is accurate to at least 0.1 mm.
If you concentrate on only one scanning technology, you will rarely get the desired result. Mostly you have to make a compromise regarding size, shape or texture of the object.
Fast but inaccurate scans lead to 3D models that need to be revised. Pre-treatment or reworking in CAD is not uncommon.
Post-processing is time-consuming, annoying and limits the possibilities of your project. It also focuses your resources on areas that would be better used elsewhere. Fortunately, not everything is black and white. There are solutions that combine the advantages of different technologies.
3D Scanner example:
Scoobe3D scanner combined:

Photogrammetry: for colour and texture
Time-of-Flight: for fast preview images
Polarization: for shiny materials

Why these 3 technologies work well together, you can read in detail read on here. The combined accuracy is 0.1 mm for all common materials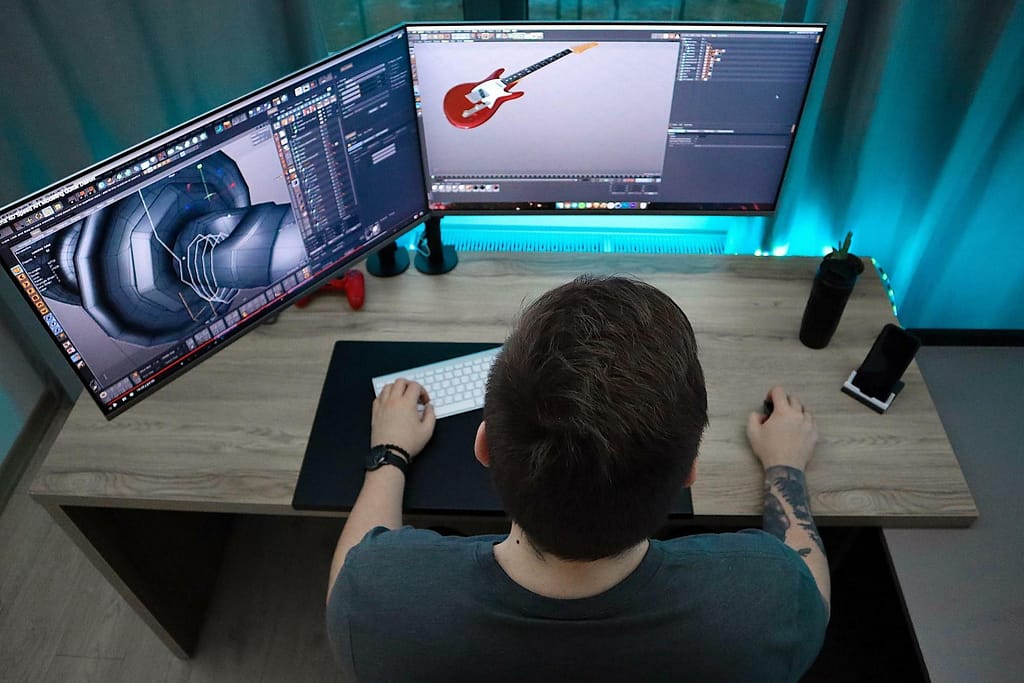 New technologies = new possibilities
The 3D Scanner is not just a cool gadget you can show off with (well, maybe a little).
Rather, it is an investment in several areas of your business.
Maybe it seems like a huge effort. And you increase your return on investment. By a factor of 5, 10, 100... And it's not just your profit.
You can also optimize your 3D projects in terms of time saving, training of your staff and post-processing. The time gained is free for projects that have so far fallen by the wayside. Which will make you and your company more versatile and more interesting for customers.
With the right investment, you can improve many areas of your business: final quality, workflow, efficiency.
With better scan quality you can work on very specific 3D models. Offering your customers tailor-made products, for example, is therefore easy for you.
In addition, 3D scanning is becoming more and more important in order to completely digitalize processes.
Take the very first telephones, for example. They needed a backpack to carry them. Not to mention the limited application possibilities. The telephones were expensive and difficult to use.
Today, however, there are intelligent smartphones on the market.
Similar to telephony, 3D scanning has evolved. The solutions are becoming more and more convenient, faster and more efficient. Meanwhile there is a wide range of 3D scanners.
Your step into the future
Investing in a 3D scanner lets your business grow and prosper.
This is your opportunity to start your fully digital process. And to stay one step ahead of your competitors.
Which scanner is best for your applications?
Our team has worked hard on a 3D scanner guide. This guide will help you find the best scanner for your needs - and more:
Stand out in your industry
Offer new business fields
Generate more orders and sales
Save time and money with your 3D models
Be one step ahead of your competition and invest in your 3D future!
Download your free 3D scanner guide down: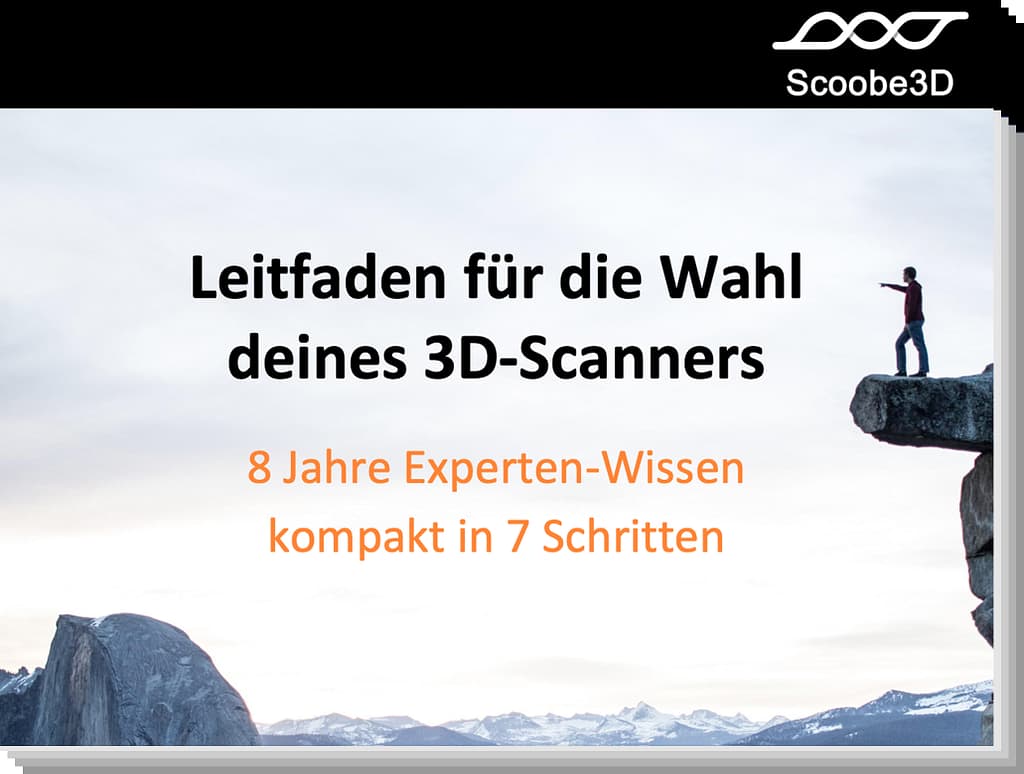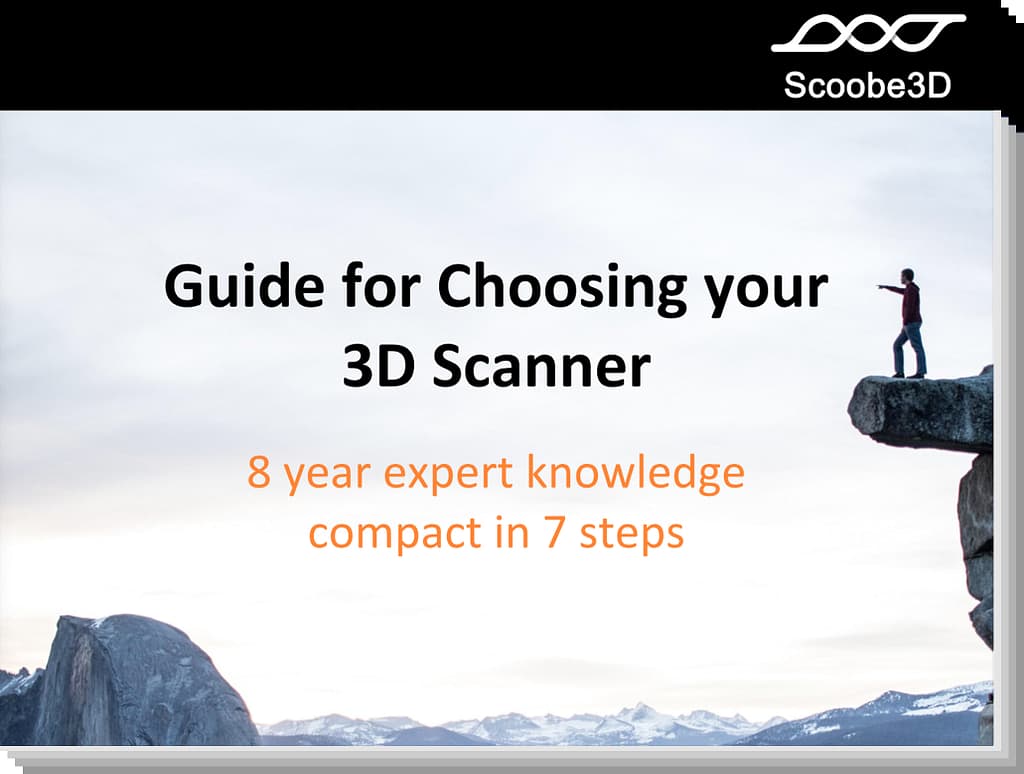 7 steps to the right 3D scanner
Define the criteria for your 3D scanner with expert knowledge from over 8 years. With this guide you will find the right 3D scanner for your application.