3D data as easy as a 2D photo
The Scoobe3D Precision is a smartphone-sized wireless 3D scanner with breakthrough technology.
Designed to help you easily create 3D models.
Status of the current financing round on Fundernation:


We make high quality 3D data accessible
Why is this necessary? The market for 3D scanners has grown rapidly in recent years as industrial workers seek to improve their design and manufacturing processes to optimize the use of energy, time and materials.
Traditional 3D scanners are fraught with challenges: Wired devices limit mobility and do not scan all types of surfaces, including transparent and reflective surfaces.
In addition, intensive training is required to operate these devices, and once the 3D model is completed, the data cannot be corrected. These challenges make it difficult for industry personnel to effectively use 3D scanning technology in their operations, which hinders more efficient processes.
At Scoobe3D, we solve these challenges with a truly mobile and versatile 3D scanner that is unique in its kind: the pocket-sized wireless scanner uses patented Polarox technology developed by our leading international team.
The technology allows users to capture high-resolution 3D scans of any object, including transparent and reflective materials, with an easy-to-use interface. The scanner is particularly portable as the captured 3D data is calculated in the cloud, allowing users to create 3D data anywhere.
The first version of the scanner has already been developed and successfully used by 74 customers and 7 distributors. The scanner is currently targeted at the packaging development use case. The technology behind Scoobe3D is new worldwide.
Scoobe3D is now raising capital to build a second, optimized scanner version that additionally covers the remanufacturing use case. This will provide another industry sector with easy access to the much needed third dimension of data.
With our scalable business model and innovative technology, we can make high-quality 3D data easily accessible. Be part of the change!
Close-to-market development of a "deep tech" innovation
First series delivered to first customers
Distribution and scaling of the first series to the current industry
target group
Development of the 2nd iteration of the hardware product part for additional target groups
Hyper-growth & targeting new adjacent use cases along the value chain.
Revolutionary solution for 3D scanning & digitizing
- wireless & pocket-sized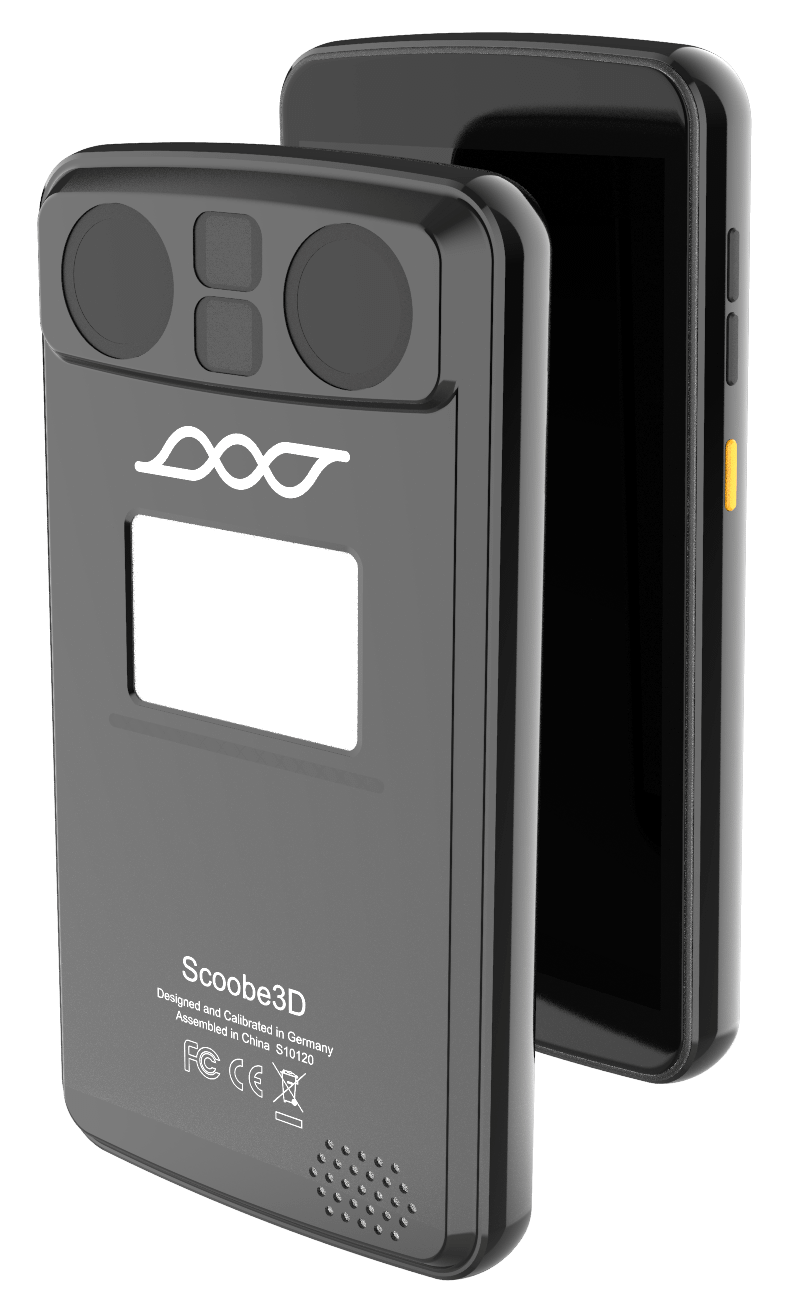 Scoobe3D Precision™ with patented Polarox™ technology




The Scoobe3D Precision is already changing the 3D world
Customers & feedback providers
Advantages of investing in Scoobe3D
✔ Through Venture capital company financed Since 2020, which ensures high standards in reporting and risk control
✔ Technology is developed, financed and patented
✔ Production of the first series is completed (200+ devices)
✔ Clear and proven market entry strategy With focus on distributors, supported by a highly experienced sales manager
✔ Excellent partner network, with research institutes and customers who actively support product development
✔ The global market for intelligent manufacturing is growing by 18.5% per year, with 3D scanning use cases growing faster
✔ High return potential: Gross profit per unit at €3.8k plus recurring revenue of > €1,000 per year.
✔ High exit potential due to high M&A activity in the Industrie 4.0 market (incl. 3D scanning market)
✔ Short time to break-even (break-even already planned for 2024)
Our investors and their unwavering support
"Scoobe3D addresses a wide range of different future industries with its innovative and patented technology. In the coming years, the market demand for 3D scanners will increase significantly. The founding team is excellently networked and already has orders from various sectors. The combination of these makes Scoobe3D a promising investment for us in the Bavarian high-tech segment."
Legal notice pursuant to Section 12 (2) of the German Investment Act (Vermögensanlagengesetz): The acquisition of this investment involves considerable risks and may result in the complete loss of the assets invested. The promised return is not guaranteed and may also be lower.
Get all the information here